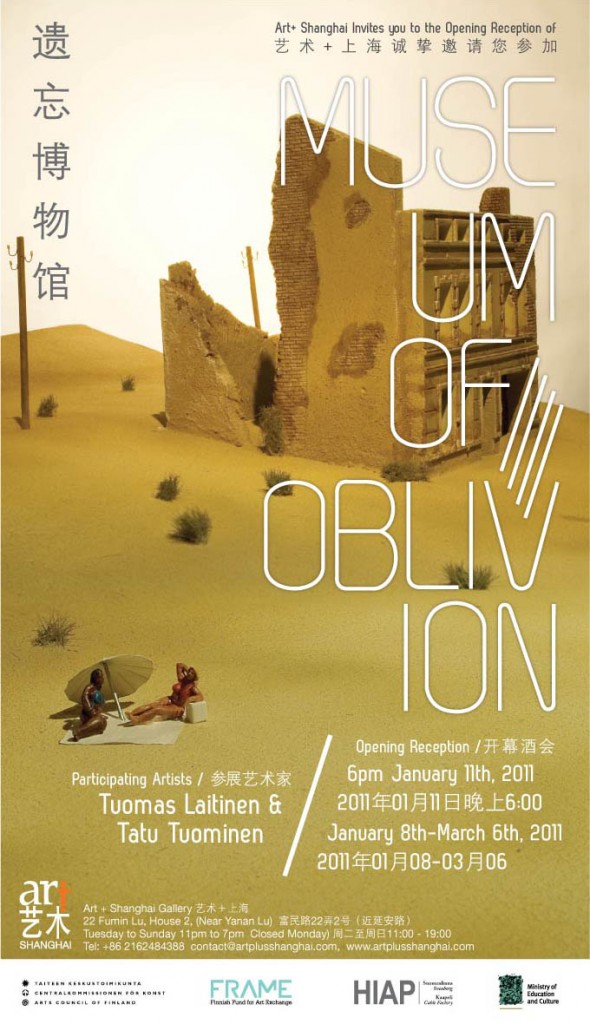 Museum of Oblivion is a group exhibition with new work from Finnish artists, Tatu Tuominen and Tuomas Laitinen. The show presents adiscussion on the position of humans in their present environment. The artworks cover various medias and installations that escape from the realm of art to approach life.
We belong to a time where the frequency and intensity of natural disasters seems to have significantly increased during the past few decades. Massive flooding, prolonged droughts, enormous hurricanes, super tsunamis and giant earthquakes have all have become familiar headlines. But as these events intensify so does our capacity to recuperate and move on. It is not so much an apathetic insensitivity but rather a normal and necessary requirement of living in present reality, which allows us to desensitize tragedy. What is shocking is our increasing ability to benefit from it.
New works from the artists will include light-boxes made from surveillance images from North American border crossings; random moments and non- descript landscapes recreated from handmade mixed-media paintings and a series of dioramas of post-disaster sites.
Museum of Oblivion stands somewhere between an anthropological study of our immediate history and a humorous (albeit dark) interpretation of the present human condition. What we observe in these works is something immutable, which ultimately moves us towards a daze, sealed under a thin layer of illusion, and waiting to explode.
Join us for the exhibition opening on January 11th at 7pm with an after-party and electronic music performance by Moby Dictator to follow at 10pm. Location to be announced.
Participating Artists:

Tuomas Laitinen
Born 1976 in Helsinki, Tuomas Laitinen is a visual artist who works with various media including light boxes, light installations, video, printmaking, and is also a well-known electronic musician in Europe. His artwork is connected to pre-cinema devices and various narrative structures. Tuomas holds an MA from the Finnish Academy of Fine Arts. Recently he has exhibited at the Paulo Foundation, Gothenburg Art Hall, Helsinki City Art Museum, Riga Art Space, MoCA Shanghai and in Museum of Contemporary Art, Kiasma, Helsinki.
Tatu Tuominen
Born 1975 in Helsinki, Tatu is a visual artist whose works mix painting, photography, and graphic arts and explore the issues of memory in random moments. His working process resembles the structure of the memory: something remembered changes when reminiscing, and a part of it is lost beyond recall. What remains are the imprints outlined in nostalgia. Tatu received his Master's Degree from the Finnish Academy of Fine Arts in 2006. Most recently he exhibited at the Museum of Contemporary Art Kiasma, Helsinki; MoCA Shanghai; the Kluuvi Gallery of the Helsinki Art Museum; the Pori Art Museum; and the Finnish Institute in Stockholm.
Exhibition Duration: January 8th to March 6th, 2011 / 2011 01/08-03/06
Opening Reception: 6pm January 11th, 2011 / 2011/01/11 6:00
Participating Artists: Tatu Tuominen and Tuomas Laitinen